Craig Butterfield is a long time player and club favourite of the Spotswood Cricket Club who will be captaining the 2nd XI this season. Craig played all his junior cricket at Spotty starting in 2002/03.  After cracking the 1st XI, Craig decided to take his cricket a step further and join Premier side  Melbourne Unversity Cricket Club at the start of the 2012/13 Season. Unfortunately, for Craig he had an unlucky run with injury and subsequently returned to Spotty in 2014/15.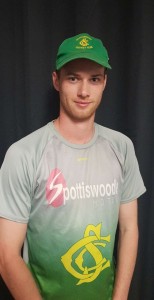 Nickname(s):
Beekeeper
Greatest Cricketing Moment You've Witnessed?
Punter's 2003 world cup final innings where he made 140*. I have watched the replays countless times since then and watching how cleanly he hit the ball especially in the last 10 was amazing.
 Win the toss and?
Bat
Your Most Treasured Sporting Moment? (In which you've been involved).
2nd XI premiership back in 07/08 in my 2nd year of senior cricket.
If you could have dinner with any 3 guests (dead or alive) who would they be?
Scorsese, Bart Cummings and Dane Swan for kick ons.
What do you see your role at the Club to be?
Developing and preparing players to be 1st XI cricketers. It's a big step up from 2's to 1's but I believe anyone playing in the 2's should be looking to play 1's. I want to help these players understand what is required for them and support them as they make the transition from 2nd XI cricketer to 1st XI.
Best Coach? And Why?
Dan (The Don) Schuppan, he keeps things simple and has a good understanding of the game and wants to see every player at the club improve. More importantly though he gave the thumbs up for me to captain the 2's.
 Favourite Thing about Spotty?
The people, environment, facilities, culture I couldn't just pick one thing.
 What are you looking forward to the most this season?
Captaining the 2nd XI for the season, I'm really confident we are going to have a successful year.
AFL Club Supported?
Sydney Swans