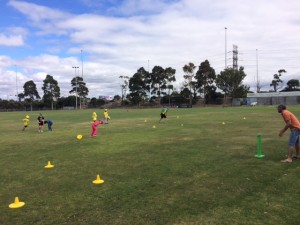 Spotswood Cricket Club is for girls and boys of all ages – offering Milo cricket programs for 5-12 year olds, and field teams in the Western Region Junior Cricket Association competitions.
Milo Cricket
Milo In2Cricket for 5-8 year olds – this will run Friday evenings and Saturday mornings, depending on numbers, and will start 10/11 November. Milo T20 Blast for 7-12 year olds – begins Sunday 12 November and will be held at Williamstown Cricket Club, for all the local clubs to participate. All registrations for Milo cricket programs must be made via the PlayCricket website, so jump on now and get the kids into cricket!
Juniors training
Under 11 and Under 13 training will start Wednesday 13 September at 5:30pm. Afterwards there'll be an information session on the rule changes for this season in under 13s.
From Thursday 21 September, training for all teams will be from 5:30pm to 6:45pm each Thursday, which is also seniors training night. The club facilities will also be open on these days which is a significant change from previous seasons. Depending on numbers we are also looking to have training on the two Thursday nights during school holidays.
If you haven't registered yet, we can sort that out at training.
New shirts?
Please check out last year's playing shirts and let us know if they still fit. If you need a new shirt, let Leonard know so we can get the order in early enough.
All-girls team
NEW in 2017-18! we are very excited to announce we're starting an all-girls under 13s team to compete in the Molly Strano Cup. Try out days are happening at the club every Sunday morning in September at 11am – all girls welcome to come along and have a go. Training will be alongside, and supported by, our experienced coach and women's team. If you know of anyone who may be interested, please contact  Yvette Hollings on 0433 016036 or hollingsyvette@gmail.com for more info.
2017-18 Junior Teams
Boys – under 11s, under 13s, under 17s
Girls – under 13s
2017-18 Junior Committee
Junior Administrator – Leonard Robbins leonardrobbins74@hotmail.com 0447 876 515
Junior Treasurer – Janine Mitchell
Girls Coordinator – Yvette Hollings
Milo Cricket Coordinator – Mark Cranwell
WRJCA Rep – Jason Dunham
General Members : Julie Wray, Mark Holden